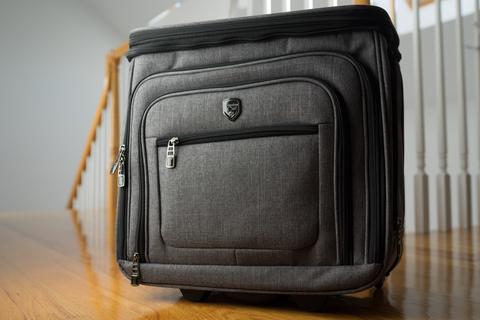 The Stafford 16" from Travelers Club is chock full of features. Despite its small size, it offers an impressive array of pockets and pouches. There's even a USB port, letting you charge your phone from a battery pack that you provide.
For many, the main draw of this bag will be its top expansion. Unzipped, it expands 8 inches in height, adding over 50% in storage volume. This effectively turns the underseater into a full sized roller.
So how does this bag fare under our tests? Can a sub-$50 bag do so many things all at once and do them all well?
A special thanks to Travelers Club Luggage, who provided our review sample. All opinions are ours.
Table of Contents
1

Design

1

1

Aesthetic

1

2

Shell Material and Finish

1

3

Dimensions and Fit in Cabin

1

4

Storing at home

2

Handling

2

1

Wheels

2

2

Handles

2

3

Zippers

3

Organization

3

1

External Pockets and Pouches

3

2

Internal Battery Pack Pouch

3

3

Padded Device Sleeve

3

4

Main and Expansion Compartments

4

Features

4

1

Trolley strap

4

2

USB Port

4

3

Other Features

5

Conclusion
Design
Aesthetic
"Boxy" is the first word that comes to mind when we're asked to describe the Stafford 16". Most luggage pieces today tend to sport rounded corners and curves. This bag, on the other hand, is decidedly square with tightly rounded corners.
This look is unassuming. While it won't help you set any trends at the airport, it does have wide appeal. The Stafford 16" is pressed enough for a business meeting, yet casual enough to take on a weekend outing.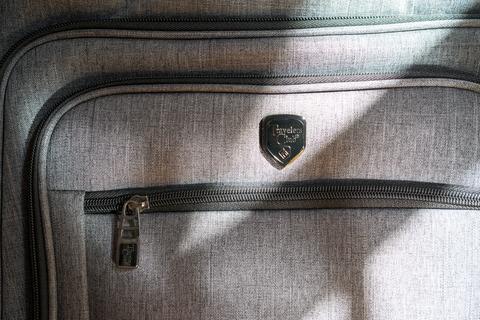 Beneath the surface, the Stafford tucks away an exhaustive list of features. This, despite its otherwise simple appearance. Most features are hidden away behind zippers, lids, and pockets. We were still discovering new ones hours into preparing our review.
Shell Material and Finish
The Stafford 16" comes in two color variants, one gray and one dark blue.
Our review sample came in gray dyed on cationic polyester with a crosshatch pattern. This fabric promises color fastness and some water resistance. It's also lightweight, helping the Stafford 16" achieve its low weight of 4.8 pounds (~2.2kg). For reference, this is lighter than most other luggage we've seen, underseaters included.
There's little in the way of structural support beneath this fabric shell. In lieu of a rigid frame, the Stafford 16" employs two flat sheets of hard plastic embedded into the rear and bottom panels. Combined with the fabric shell, this keeps the bag light and the shell as a whole more malleable. The upside is that this bag will conform to most tight spaces. The downside is that its contents are more susceptible to impact.
There's yet another tradeoff in the form of lesser durability. What you gain in having a featherlight bag, you give up in having a rugged one. We have reservations about checking this bag or keeping it in a luggage hold, for example. This goes doubly so for the expanded form of this bag since the expansion itself has even less structure. Its sides are comprised entirely of the polyester fabric mentioned above.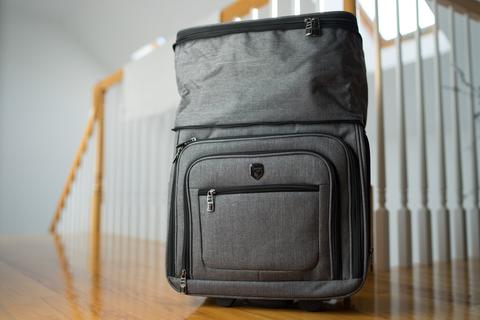 Still, we wouldn't call this bag fragile. The Stafford 16" is meant to be used in cabin, after all. Handled with care, we foresee ours holding up for years of occasional (one trip per month) travel. Those inclined to treating their bags more roughly and those who travel frequently may wish to find a more durable bag.
Dimensions and Fit in Cabin
Because of its compact size, the Stafford 16" is considered a personal item. You can bring it on board for free either as your sole bag or in addition to an existing carry-on.
This makes the bag well suited to those want to carry more or those who pack lightly for short trips. It's also ideal for those who fly on ultra-low cost airlines like air:spirit or air:ryanair. Since these airlines charge for carry-on bags, but not for personal items, bringing a bag like the Stafford 16" could mitigate potential bag fees.
This applies similarly to those who travel internationally (outside of the US). Many international airlines and airports place weight restrictions on cabin bags. Because the Stafford 16" is so lightweight at 4.8lbs (approx. 2.2kg), there's more weight capacity left for your belongings here than with most other bags.
In the US, air:american is the only major airline whose listed underseat dimensions would preclude the Stafford 16". Based on their policy, this bag exceeds either length or width by just one inch. Other international airlines and smaller regional aircraft may have similarly restrictive underseat capacity. On these carriers, you'll need to stow the bag in an overhead bin.
Finally, when expanded, the Stafford 16" turns into a full-size 23" roller. When stuffed full, this bag is actually considered "slightly oversized" on most of the 80+ airlines we track. This designation means the bag is too large for carry-on based on airlines' baggage policies.
In reality, most airlines will likely accept a "slightly oversized" bag. This isn't guaranteed though, so if you wish to err on the side of caution, consider packing the expansion loosely. The malleable shell allows the expansion to compress, allowing it to comply with airline policy. In this sense, the Stafford 16" is more accurately a roller that can take any length between 16" and 23".
Storing at home
Those who keep small spaces—apartment dwellers and college students included—will revel in the fact that the Stafford 16" stows away at home as easily as it does in cabin. We keep ours in a small coat closet of our apartment. It'll also fit under bed and in less conventional spaces like an under-vanity cabinet with ease.
Handling
Wheels
There are two recessed inline blade wheels on the Stafford 16". These allow the bag to glide over level surfaces like carpeting and pavement. The wheels found here are fairly standard and you won't find frills like noise dampening or shock absorption.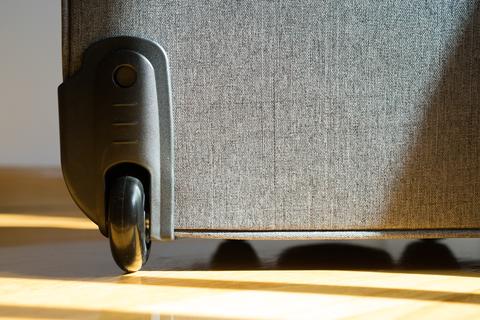 What you'll get instead are benefits inherent to this kind of wheel design. Recessed wheels tend to hold up much better than protruding spinner wheels against impact. There's little chance they'll shear off even after a few tumbles. Some travelers also prefer this wheel design because bags stay put when intact. Compare that to spinners, which tend to roll about, say, on a bus or subway.
Of course, there are a couple of minor disadvantages to this design. For one, recessed wheels eat into some of the internal space. You'll have just a bit less storage in the main compartment than you would with protruding wheels. Because they're recessed, these wheels also cause the bag proper to roll low to the ground, exposing the bottom to wear.
Travelers Club partially addresses the latter concern by installing bumper pads on the corners adjacent the wheels. Still, there's little protection for the edge between the wheels. To protect this edge, we find ourselves hand carrying this bag over curbs and unpaved surfaces.
Handles
The Stafford 16" provides three handles, one topside, one trolley, and one underside.
The topside handle is thinly padded with contours for slightly improved ergonomics. It takes on the same pattern and material of the shell, helping it blend inconspicuously into the rest of the bag.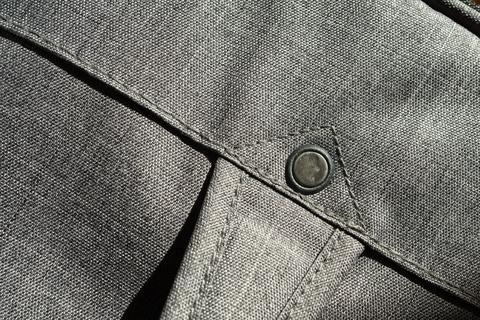 This handle is adequately reinforced for frequent hand carry, but we would have liked a bit more padding. Under loads of 10 lbs (4.5kg) and heavier, the handles' edges tend to jut into our fingers. In all, we found this handle usable carrying a load of 10 lbs over a distance of 750 feet (225m) at a normal walking pace. This is about the length of a typical concourse at LaGuardia Airport in New York. For longer distances or heavier loads, we'd stick with wheels.
The trolley handle on this bag is hidden under a zipper found on the rear panel. As is the case on most roller suitcases, this handle extends to multiple heights. It also has a grip made of a hard plastic mould. A push button disengages the height lock.
The telescoping arms of this handle are made of an aluminum alloy, brushed to give it a sleek appearance. On the navy blue variant of this bag, these arms are painted jet black.
While we found the trolley handle comfortable to use and sufficient, it does have one flaw. When attempting to set the handle at an intermediate height, the locks often fail to engage on the first go around. We have to pump the handles up and down a few times to get it to lock at the desired height. This doesn't apply to the fully extended height, where handle locks do engage properly without fail.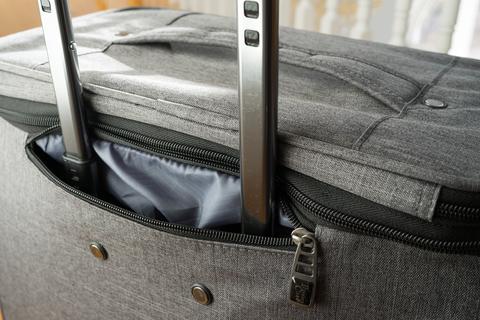 One last word on this trolley handle: it tends to flex and wobble more than most other handles do. We find this perfectly acceptable as it's only noticeable when applying a force against the handles at an angle. Since the Stafford 16" employs a two-wheeled design, more often than not you'll be pulling the bag forward by its handles—not pushing or rotating it.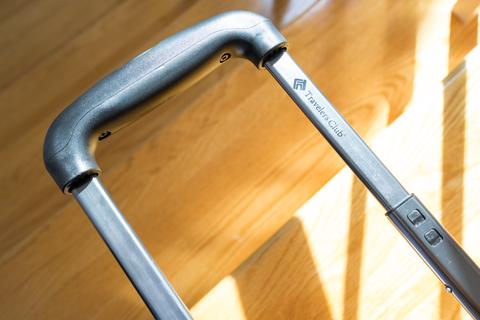 Lastly, there's the underside handle located on the bottom panel of the bag. This cupped handle, made out of hard plastic, isn't at all ergonomic. But then again, it doesn't need to be. You'll only come in contact with it to pull the bag from out of a bin or from under a seat. Most times, this handle serves as a stand for when you set the bag down.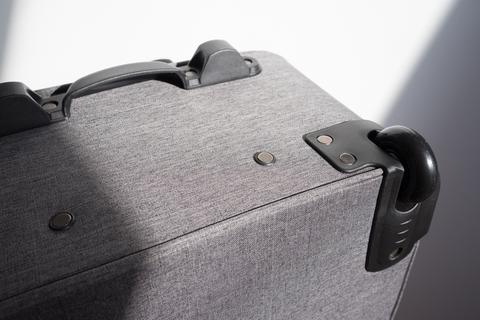 There are no side handles, which on the Stafford 16" is acceptable. Side handles typically mount onto the long side of a suitcase. They allow a bag to hand carry more easily as they give a bag more clearance off the ground. Because the topside of this underseater is longer than either its left or right sides, adding a side handle would offer no significant benefit.
Zippers
The Stafford 16" comes with more zippers than we typically encounter in a suitcase. In total, we counted nine. Between these, you'll find two zipper styles.
External zippers have generously sized pull tabs and plastic teeth. That makes them easy to grab hold of and move as they glide effortlessly along their tracks. On this bag, external zippers provide access to the front pockets, the side pocket, the hidden trolley handle. They also grant access to the main and expansion compartments via U-shaped zippers.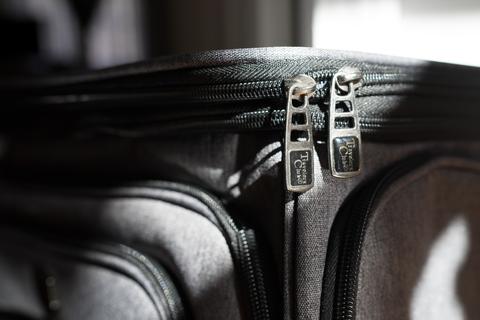 Two internal zippers, by contrast, have small pull tabs and teeth, making them rather finicky to handle. One zipper allows you to undo the internal lining of the bag, the other a divider that separates the main and expansion compartments. 
The former must be undone to access the battery pack that supplies power to the USB port. For most travelers, this is but a minor inconvenience. Unless you're frequently accessing the battery pack or folding the divider out and back, you'll only engage these zippers on occasion.
In all, we're pleased with how the zippers handle.
Organization
External Pockets and Pouches
The Stafford 16" comes fully loaded with four exterior pockets.
The largest of these, sporting a double zipper, covers a large part of the front panel of the bag. Inside it, you'll find pockets made for smaller accessories. There's also a clear plastic zipper pouch, designed to hold toiletries and liquids. You may still want to throw leak-prone bottles into a resealable zipper bag of your own since this pouch isn't waterproof.
The largest external pocket includes a pouch for toiletries along with smaller pockets for other accessories. Note the clear plastic lining covering the toiletries pocket (left), but that this pocket is not waterproof.
Two other exterior pockets employ single zippers and contain no additional organization. One of these sits on top of the large exterior pocket we mentioned above. The other covers a large part of the right side of the suitcase.
On the left side of the bag is a slit pocket that has no zipper at all. It sits beneath the USB port, which leads us to believe it's meant for holding a charging device. Although there's no way to close the opening to this pocket, it offers some tension and runs deep.
This pocket holds our 5" Google Pixel phone or an iPad Mini without issue. There's a small protrusion over the top of the pocket—half an inch for the Pixel and a couple of more inches for the iPad Mini. Despite the protrusions, we're comfortable keeping a charging device in this pocket even as we run the bag to the gate. There's little chance that they'll pop out in transit.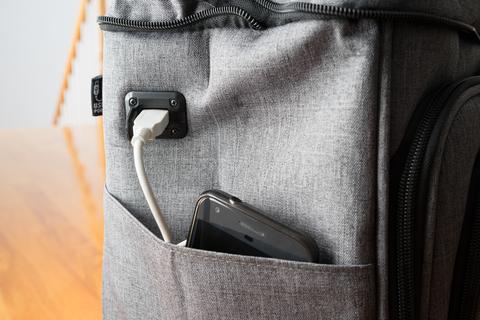 Internal Battery Pack Pouch
Inside the bag adjacent the USB port is an internal pocket made to house a battery pack. This battery pack isn't included, but we link to a few we recommend below.
While the USB port itself is pleasant to use, attaching and stowing away the battery pack for it is less so. Mostly, it's a matter of access. To get to this pocket, you'll need to get into the main compartment. You'll then need to push aside anything in the way of it, undo a small zipper, and peel back part of the inner lining.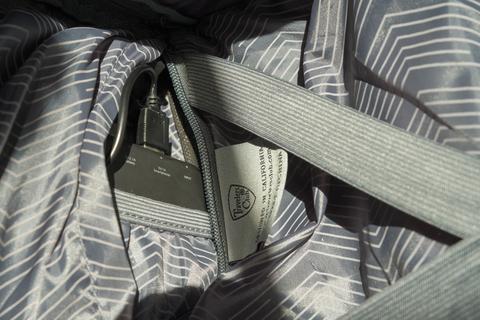 This can be frustrating for those who drain their battery packs quickly. Heavy users of the USB port and/or those who use a smaller battery pack may have to go through this ritual daily. About the only way to lengthen this frequency is to use a larger battery pack.
This too can be a juggling act. Battery weight, size, and cost scale up with capacity. For this bag, we suggest a battery with 10,000mAh or more in capacity, which provides 2-3 full charges for a modern smartphone. We also suggest a slimmer battery to maximize compartment space for your other belongings.
For the Stafford 16", we recommend the above batteries. These are made by manufacturers with a tested track record of producing reliable batteries. The first two recommendations have slim profiles, letting them slide into the pouch with ease. The third offers a much larger capacity, but at the expense of taking up more space in your main compartment.
Padded Device Sleeve
On the lid covering the main compartment, you'll find a padded sleeve. While it's meant primarily for thin electronic devices, you could use it to keep printed documents like travel visas and boarding passes safe.
It's a bit snug, but we managed to toss in one of our older work laptops, which measured out to 12.8" x 8.8"; 0.71" at the thickest and 0.11" at the thinnest. For reference, that's comparable to a 2012 Macbook Air. More recent computers tend to be lighter and thinner. As such, we expect most modern 13.3" and thin-bezel 14" notebooks to fit in this sleeve.
We particularly like where Travelers Club placed this sleeve. Its positioning, along the front lid facing upwards, allows us to more easily access devices kept here. Instead of opening up the compartment lid entirely, you need only undo just the zipper nearest the topside of the bag to get to your device. This placement makes the sleeve all the more convenient to use on the go.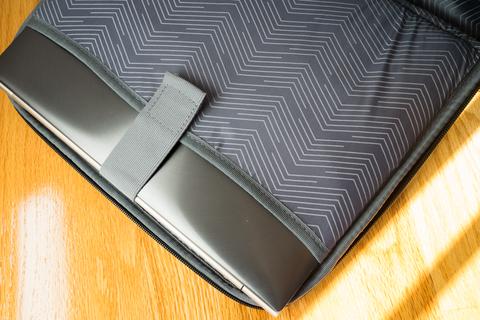 Main and Expansion Compartments
The Stafford 16" includes two compartments. A primary compartment provides enough space for a three-day trip. When needed, an expansion compartment pulls out to add just over half the storage space provided by the main compartment.
Both of these compartments are relatively simple. They provide cavernous, unstructured, space ideal for packing away clothing and larger items. Smaller accessories already have a home in exterior pockets, so there's less of a need to bring along packing cubes or toiletry bags.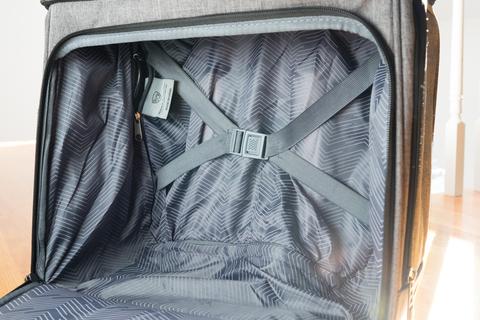 The main compartment provides storage and simple compression straps
Each compartment is covered by a lid lined with U-shaped double zippers. One folds outward from the front of the bag, revealing the main compartment. The other flips up from the top, granting access to the expansion.
All sides of either compartment are covered in an internal lining. This lining is removable in the main compartment, but remains fixed in the expansion. A thin divider made up of the lining material separates the main compartment from the expansion. It unzips and folds away to create one monolithic compartment.
There are a few minor differences between the two compartments. The first relates to their structure. The main compartment has more shape given to it because of the hard plastic inserts embedded in the bottom and rear panels. Compare that to the expansion compartment, which has almost no structure. Since the main compartment provides better protection against impact, we'd place fragile items in it over the expansion where possible.
The main compartment also offers a simple compression strap not found in the expansion. This strap joins together from the four corners of the rear panel and clips at the middle. It does a reasonable job of holding items in and compressing looser-fitting items to save space.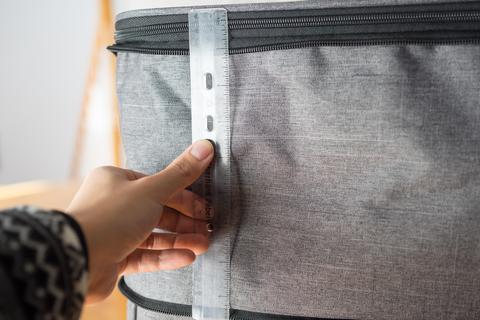 We'll note here that the expansion compartment is relatively unique compared to expansions found in other bags. Most expansions allow a suitcase to expand depthwise, enlarging existing compartments. The top expansion, in contrast, creates a new compartment, transforming the underseater into a carry-on roller.
This compartment is in many ways a clean slate. You could pack whatever you wish in it without worrying about what's already packed. There's also no need to rearrange existing contents to accommodate bulkier or irregularly shaped items as you might with a traditional expansion. Want to pack in a last minute pair of shoes? Just toss it into the empty top compartment.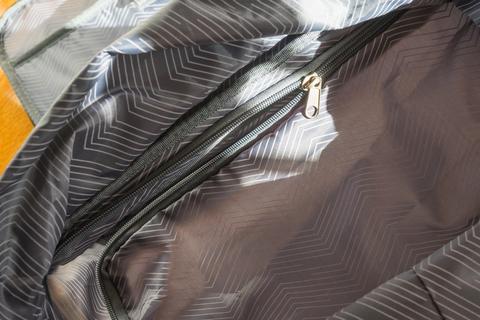 Features
Trolley strap
The Stafford 16" comes with a trolley strap that helps you hitch the bag to the trolley handle of another suitcase. To access it, you need to undo just the rear side of the expansion zipper found near the top of the bag. The strap shares the same fabric, color, and pattern so it's easy to miss when tucked alongside a compressed expansion shell.
Typically, trolley straps rely on some combination of their positioning and tension to function properly. The Stafford 16" is unique in that its strap is relatively thin and hangs loosely off the top of the bag.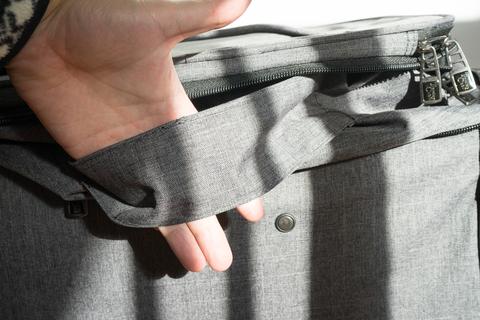 So far, the atypical trolley strap has worked reasonably well. We haven't had our Stafford 16" fall off another trolley handle yet. We think that's in part due to the completely flat rear panel of the Stafford 16". The flat surface helps it stabilize when seated against a two-bar trolley handle of a larger bag.
USB Port
The USB port found on the Stafford 16" is typical of other luggage with these ports. On this bag, it's affixed to the left-hand side of the bag, positioned halfway towards the top-left corner. A rubber-sealed door prevents moisture and dust from entering the port when not in use.
As of this writing, most manufacturers add USB ports to their designs, seemingly as afterthoughts. Most provide just a standalone port with no means to hold a charging device. To charge on the move with these, you'll need a long cable that can reach between the port and a pocket on the bag. Not so with the Stafford 16", which includes a slit pocket right beneath the port—a nice touch that makes the port more convenient to use.
The USB port on this bag sits flush with the exterior of the bag. This port protrudes into the interior of the bag by a small amount. An attached wire, designed to attach to a battery pack, hangs off of it. Port and wire occupy the same amount of space taken up by two packs of gum.
Other Features
There are several other features that we won't expand here. These are sufficiently discussed in other parts of this review. We highlight a few of these features and the section you can read to learn more about them:
Toiletries and liquids pouch (Organization > External Pockets and Pouches)

Padded laptop and tablet sleeve (Organization > Padded Device Sleeve)

Ability to transform between underseat and rolling suitcase (Design > Dimensions and Fit)
Conclusion
At under $50, the Stafford 16" offers impressive performance given its price. This isn't just a solid budget pick. It's also an exceptional bag in its own right.
Those looking for a rugged bag they can check or those who fly frequently might want to look at more durable options. For most other travelers, this is a solid personal item bag that converts into a carry-on roller suitable for trips lasting up to a week.
Under its simple appearance is an array of convenience and organization features. You'll find an abundance of pockets of varying sizes, a toiletries pouch, and a USB port among others.
If you can overlook its flaws—a less rugged shell and a handful of usability issues—then this bag deserves serious consideration.