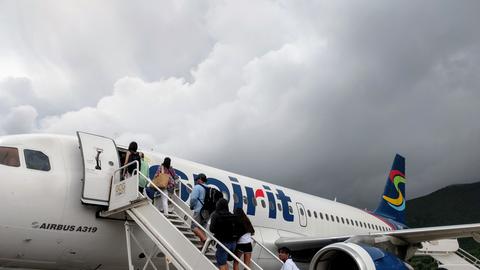 Spirit now operates over 60 different destinations and that number keeps growing. If you live in or near a big city, chances are you've seen Spirit's rock bottom fares pop up in your searches. You might have even booked a flight, which explains why you're reading this article.
The airline has a bit of infamy to its name. Passengers who prefer Spirit typically do so to save a bit of money. Others who have heard of Spirit try to stay away because of high bag fees and little creature comforts.
We won't address either of these topics as we've touched on them before in another article. We will, however, focus on ways you can make the most of your fare and, possibly, your bag fees.
Flying Spirit Without Bag Fees
There's one good reason trying to dodge bag fees on Spirit.
Every bag that's larger than a backpack counts as either a carry-on or a checked bag. And bringing those bags ain't cheap. For each carry-on or checked bag you do bring, expect to pay at least $70 round-trip (and possibly over $100 depending on routes, when you reserve a bag, etc.).
To pack a free bag, you'll need to make sure the bag itself doesn't exceed 18" x 14" x 8". That's 35.6 x 45.7 x 20.3 cm for metric passengers. These are the dimensions for what Spirit allows for free: one personal item. If you have a ruler on hand, you'll find that these dimensions make for a rather small bag.
On most other airlines, you'd typically use the personal item to stow away belongings you need during the trip. You might keep a laptop or a jacket in there along with some snacks, bottled water, and some chargers. That won't be the case if you're trying to go bag-fee-free on Spirit.
Fly fully dressed, and then some
One way to avoid bag fees is to dress up. And I mean dress up.
Bulky articles of clothing like jackets, sweaters, boots, and jeans can easily take up a third to a half of your personal item. If you're going to pull off this feat of organization, you best offload some of your bulkiest belongings onto your person.
Bonus points if you have spacious pockets on whatever it is you're wearing. Those will come in handy when you realize you don't have enough space for your phone chargers or other smaller knick knacks.
You might also want to layer on if you can. Just don't go overboard or you'll turn into a meme.
Skip packing cubes and toiletry bags
Elsewhere on this blog we've sung the praises of both, but not here. No, no. You need every cubic inch of space you can get and those nylon / polyester organizers take up way too many.
Instead, you'll want to throw your toiletries into a gallon-sized zipper bag. Small bottles of liquids should go into sandwich sized zipper bags. Be sure to label these bags appropriately so you can reuse them in the future (and that you don't accidentally reuse them for foodstuffs).
As for your clothes and shoes, we recommend reusing clean plastic bags that you picked up supermarket to contain dried goods. Plastic bags once used to contain meats and fresh produce tend to leave liquids that can then stain your clothes.
Make space
Once you've packed your clothes and essential toiletries, you may find a bag with little space left for anything else. If you have other "must-bring" items, now's the time to do a quick check of inventory and clean out what you don't need.
With potentially $100+ on the line in bag fees, there's likely something you can dispense with for a weekend trip. Try to downsize if you can. For example, going from five shirts down to four or getting rid of the iPad if you're bringing a laptop (or vice versa). If that doesn't work, consider items that you could easily replace during your trip.
Replace it while you're there
No matter where you're going, there's a good chance you'll come across a store or market where you can replace items you leave behind. Toiletries are perfect candidates for this. Soaps, shampoos, lotions, and creams are available in any part of the world. And if you think about it, it'll cost you way less to make a $10 run to the supermarket than to upsize to a carry-on.
That said, we don't like to encourage consumption for consumption's sake. If you're buying something on a trip, make sure you buy just enough for what you need. Grabbing a Costco-sized liter of shampoo would be much too wasteful (and costly) for a weekend away.
Finally, if you're staying at a hotel that's a step above economy, you can generally expect it to provide essential toiletries. Most also provide phone chargers for you to borrow. Some may also have business centers with computers, which means you could forego bringing a computer yourself.
When to Pay for a Carry-On
There are a few instances in which it makes sense to pay to upsize to a carry-on:
You have too many must-have items to bring

You're traveling with a companion or children

Your trip lasts longer than four days
A carry-on on Spirit Airline is roughly double the volume of a personal item. That means you're able to fit twice as much in a carry-on as in a personal item. Put another way, when you decide to bring a carry-on, you're effectively tripling the amount of space you had prior to ordering a carry-on.
With that much space, you can travel more comfortably and, naturally, bring more stuff. This is handy if you're flying out for a wedding, for example, or if you're traveling with a companion or children and you need more room for others' belongings. 
Finally, you'll probably want to consider a carry-on if your trip lasts longer than a few days. The only exception to this is if you know that you'll have access to laundry and don't mind cycling through the same clothes more than once.
Paying for your carry-on
Carry-on bags are cheapest when you book them online on Spirit's website. If you show up to the airport with a bag that's carry-on sized (i.e. larger than a personal item, but smaller than a checked bag), Spirit will charge you more—up to $67 per bag, per direction. If you absolutely must have a carry-on, reserve it early.
How to pack a carry-on for Spirit
Because you have much more space, you can pack as if you were flying any other airline. If you need some useful packing tips, check out our post on packing light.